Penile drop is when the penis is straight all through its course, but is deviated downwards. A more inclusive term is "Deviation of the Erect Straight Penis (DESP)". DESP is when the erect penis is straight but pointing anywhere but forwards. A prerequisite for the diagnosis of DESP is that the direction can be changed with ease using one's hand, when in the erect state. This here is a case of DESP / Penile drop: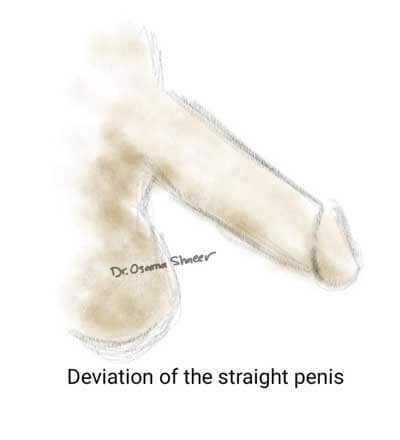 In contrast to penile drop, there is penile curvature. Penile curvature is when the penis grows straight from the abdomen then assumes another direction along its course, with an identifiable point of curvature (pivot). Another condition for the diagnosis of penile curvature is that the curve or the abnormal direction cannot be forced into the straight direction by hand when in the erect state. This here, is a case of penile curvature: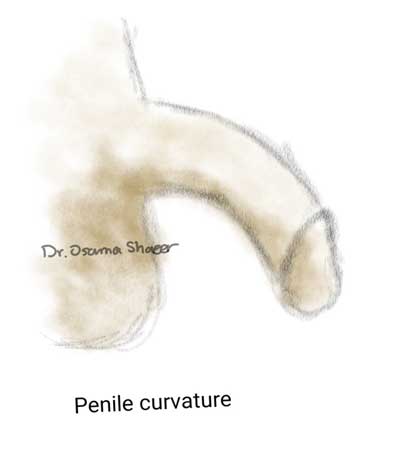 Penile drop / DESP does not necessarily require surgical intervention, since it will not prevent or hinder sexual intercourse. One can easily point the dropped penis in the desired direction, and after penetration. Still, one may chose surgical correction, for cosmetic purposes. This is contrast to actual penile curvature, where the curvature can make intercourse difficult or painful and may require surgical correction.
Downward DESP is termed "Penile Drop" or "Ventral Deviation of the Erect Straight Penis ,VDESP". Sideways DESP is termed "Lateral DESP , LDESP".
How to correct Penile drop / DESP surgically?
It is easily and totally correctable either by anchoring the base of the penis backwards to the anterior abdominal wall at a higher position. The Penis is normally attached to the pelvis by a ligament (the suspensory ligament), that determines its angle upwards or downwards. Laxity of this ligament whether inborn or due to trauma can be corrected by one or two sutures placed between the base of the penis and the anterior abdominal wall.
Correction of penile drop is a 20-minute surgery and the individual is discharged from the hospital the same day and allowed to resume intercourse one week later.
Professor Shaeer is one of the very few experts who have published scientific manuscripts in this domain.
View the research papers:
Congenital penile drop- defective suspensory ligament versus severe proximal curvature, a case series